Equipment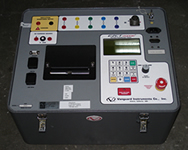 Vanguard EZCT 2000B
Programma 600A uOhm meter
ETI 10kVDC megger
Tektronics TDS 320 'scope
as well as other smaller instrumentation and metering.
Testing of PTs/CTs, small power transformers and regulators, setting up disconnect switches are all work I've done using equipment VRES has. I can also rent or use customer equipment to expand that to circuit breakers, generators and cables.