I like this particular flexible light string design in that you can cut it to length and it can move with clothing or decorations. The store's box comes with a plug in adapter which we don't need (but always comes in handy for other projects, since it's 12VDC output). There's a plug connector box which we won't use either.
You can get these 'Spy Ears' at instructables.com, princessauto.com and a few other places for about $3. You will also need a 10,000 ohm resistor of any small size- Radio Shack/The Source has 'em in the component section if you can't scrounge one out of some busted electronics. (Brown/black/orange/gold)
Add a "Spy Ear' to a stock IKEA 'DIODER" multicolour light strip... Talk about a sweet dance accessory! (note this only works for the colour-dial type LED string- type 6001.923.55)
There are several ingenious people at hackaday.com that have played with this gizmo, and some projects are amazing (and complicated!) But, I haven't seen an audio application yet, nor a simple approach like this one...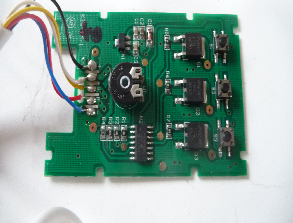 Use the picture up here as a guide...
Remove the wires on the left. The plus side of a 9 volt battery goes where the black wire was, the negative side where the blue wire was. From the light strip, the 4 conductor cable that used to go to the connector box now goes directly here- the wire with no markings goes where the black wire was (now with the + from the battery), the other three in a sequence down- long dashed to where white was, xxx where yellow was and short dashes to where red was.
Now, if you don't need sound activated, the strip will work just fine like it is right now. It'll blink, fade and change with the controls. But the sound activated part ('Spy Ear' ) connects where the black rotary control is, so after pulling out the part, connect 3 wires where the control was- one to each of the places where a terminal was.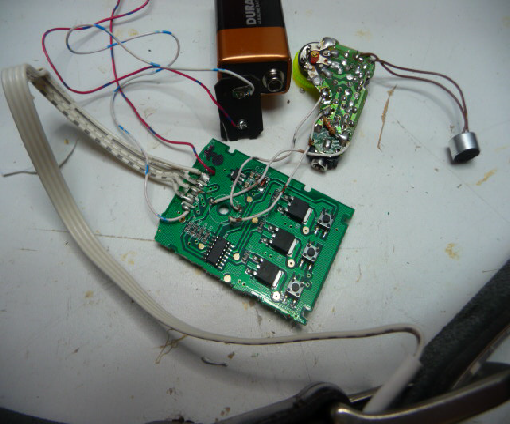 Once you get the Spy Ear board out of its case, pull out the battery and the battery tabs. The power for the Spy Ear now comes from where the control was... -ve is the upper terminal of the old control (and goes to the switch of the Spy Ear volume control) +ve the bottom of the old control (and goes to the Spy Ear earphone jack shell). The wire that comes from where the middle terminal of the control was goes to the earphone jack centre pin (audio out from the Spy Ear) That 10,000ohm resistor goes from this point to plus (ie, across the earphone jack and brings a little positive voltage down) And that's it.